Years ago, full backs were simply seen as wide defenders that were making up the numbers in a starting eleven, but as the beautiful game adapts and evolves, so does the impact of particular positions in a footballing team's starting eleven.

Goalkeepers have to be better with the ball at their feet, no longer just their hands, and while flying, out-and-out wingers are becoming extinct, the importance and demand for pacey, versatile and well balanced full backs increases.

Former Liverpool centre back Jamie Carragher once confidently claimed, in the company of former Manchester United right-back Gary Neville in the Sky Sports punditry studio that full backs were either failed centre backs, or more likely – failed wingers.

The statement sort of claims or devalues the importance of full backs, but Neville can be encouraged at least to see a full back in Kyle Walker being bought for such a high fee – ruling out the possibility that full backs are simply there to make up the numbers.

Manchester City have identified the greater importance of possessing better full backs, and at Liverpool, midfielder turned left full back, James Milner's spell to boast his versatility at left back appears to finally be over, as Klopp reverts back to starting Moreno, despite his obvious flaws and vulnerability. It's a need to have a more pacey left back at Anfield, which restores attacking balance, as teams become ever more dependent on full backs providing attacking width.

The 'Swansea Way` of old may never return in its purest form, but it needs to make its long awaited return in some fashion, with pacey wingers replaced by wing backs.

The popularity of a three at the back system in the Premier League has also grown significantly following Chelsea's title winning success last season.

The system simply doesn't work without dynamic wing backs that can get up and down the pitch and show discipline in terms of balancing their work between defence and attack.

All of the top 6 or 7 teams have trialled a three at the back system during the Summer with varied success, but only a few have shown trust in it for their opening Premier League game.

Manchester United, Spurs and Everton are some of the sides that didn't use the system for their first game, but Guardiola may reap the rewards as he aims to repeat Chelsea's success in 2017/18.

Arsenal too are another side to enjoy the quick success and impact of a 3421 formation switch. Their defensive vulnerabilities in their usually tried and tested 4231 were getting exploited more regularly, and Wenger proved his critics wrong that he wasn't stuck on his ways. His side have looked defensively stronger, with greater balance thanks to an added centre back, and midfielders pushing infield to add defensive protection and greater central dominance.

The Swans may not be another side to boldly opt for a 343 formation yet, but their narrower system relies heavily on effective wing backs, as opposed to wingers like 2014 and prior.

Brendan Rodgers was the last Swansea City manager to truly make wingers work here as part of the Swansea Way. Laudrup adapted it, preferring his wingers to tuck in and operate as inside forwards, to try and make them more of a goal threat in and around the penalty area.

That was the start of wingers dissolving out of our style of football, and with it our onfield success. That's not the fault of our former Danish manager, who moved with the times by switching to a 433, but more to do with the club's struggle to keep moving us forward in a similar manner. Monk's attempt to make us more versatile and more adaptable didn't pay off in the end, but he wasn't helped by a lack of quality player recruitment either. Ever since his sacking, we've simply been relying on quick fixes and "making the most with what we've got" to restore our Premier League status.

But with Paul Clement now in charge and the takeover finally completed, we should have the platform and stability in place now to restore some sort of identity and playing style.

That was what Paul Clement said himself during the Summer, and the impossiblrtance of having effective wingers is as valid for us as it is to some of those teams that are switching to bold but functional 3-4-3/3-4-2-1 system.

Forget Sigurdsson`s sale for now, the Swans have the funds to bring in an attacking midfielder to replace him, but the need to improve at right back is an issue that is being annoyingly ignored.

When Leon Britton was often our busiest player on the pitch in terms of passes, acting as a pivot from defence to attack, our patterns of play have changed, as the ball is now often being fed through to the full backs from the centre backs. With the ball being played to the wide defenders more and more, their creative ability to move the ball into central attacking areas is more important than it`s ever been. It would be an interesting stat to see the difference in passing direction of both full backs. Does Olsson play the ball forward more often than the limited Kyle Naughton? I would be amazed if he didn`t.

The pass map vs Southampton below demonstrateshow the full backs are more involved than Leon Britton, and there are plenty of other examples from last season too.

With an on-going need to add more players to operate through the centre of the pitch, wingers now need to push inside, and operate closer to the main striker – meaning full backs are the only players available to provide width to stretch the opposition.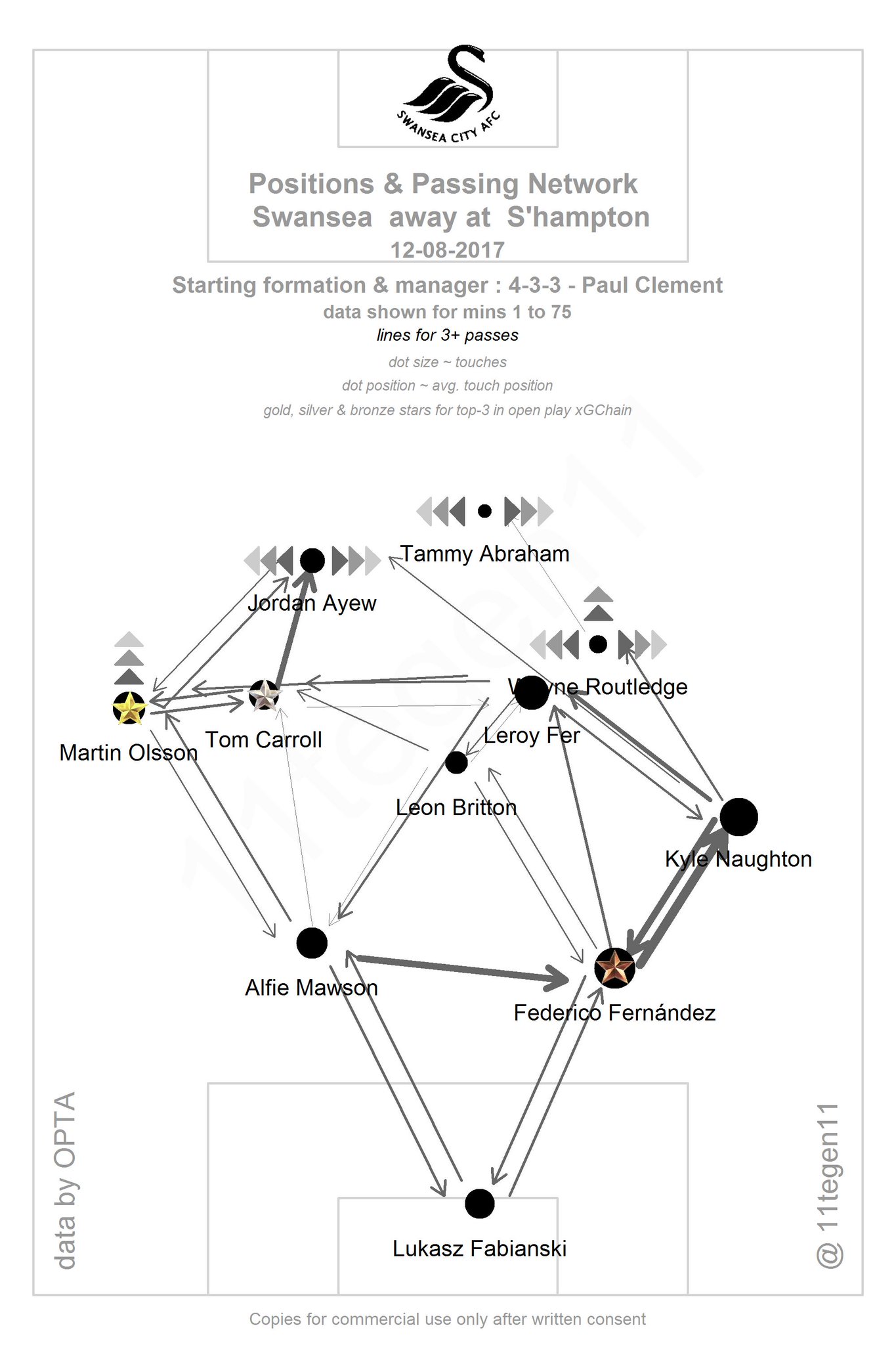 The pass map of the 3-2 home win vs Burnley is another good example of how a lot of our play is fed through the full backs, with the thicker arrows appearing in wide positions.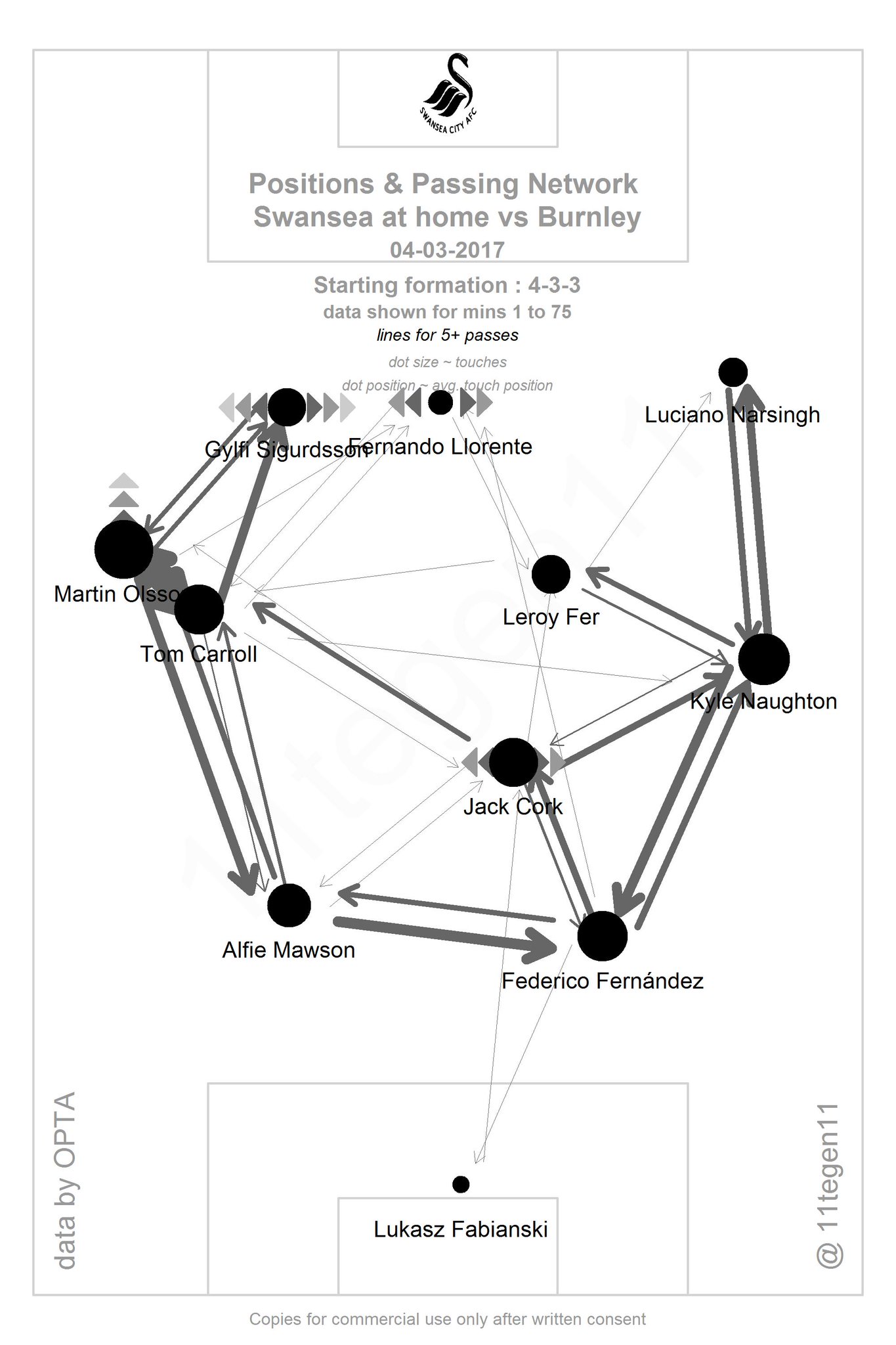 The Swans are halfway to getting the full back issue sorted. Martin Olsson is the sort of full back that is dynamic, can attack and link-up well with his nearest midfield team-mate Tom Carroll, and has the stamina to get up and down the flank effectively, but we don`t have that same balance on the opposite side with Kyle Naughton. His attacking ability is limited, and we just don`t see the same threat coming down that right side compared to the left.

With a better right back, the Swans will have great attacking balance width across both flanks, as well as having the option to switch to a three at the back system in the near future if Paul Clement wanted to. He used it briefly at Southampton, but it was more of a 5-4-1 – as he took off Abraham and brought on Kyle Bartley in an attempt to hold on to a well-earned point.

But the Swans are not a right-back short of being a great side, but a new right back – similar to Olsson would definitely help our cause. We still need another 2 players in the middle to create more attacking openings for us. Ayew is still hit and miss, and without Gylfi Sigurdsson – we`re lacking a huge threat from set pieces, a useful weapon when we`re making hard work of our open play efforts.