We take a quick look at the pass map from our final pre-season friendly, as Paul Clement`s side produced their best performance of the Summer – beating Italian side Sampdoria 4-0 at the Liberty Stadium.

The pass maps you see here are all the excellent work of twitter user @11tegen11 – and we can`t thank him enough for being able to provide this detail for a pre-season friendly match.

It was only a friendly of course, but these games – particularly the later ones give an insight into how we`re going to set up for our Premier League opener at Southampton this Saturday.

After the team was announced, I expected we would line-up in the following formation, a 4-3-1-2 system – carrying on from the success of the tail-end of last season:


Today's shape looks like a 4-3-1-2, with Routledge as CAM. Though could possibly be a 4-3-3 with Ayew & Routledge either side of Abraham pic.twitter.com/uOQif2ymIy

? Vital Swansea City (@VitalSwansea) August 5, 2017



Looking at the pass map and average positions, it proved to be more of a 4-4-2 diamond – considering the distance between the deep-lying midfielder – Leon Britton, and his side-kicks Tom Carroll and Leroy Fer.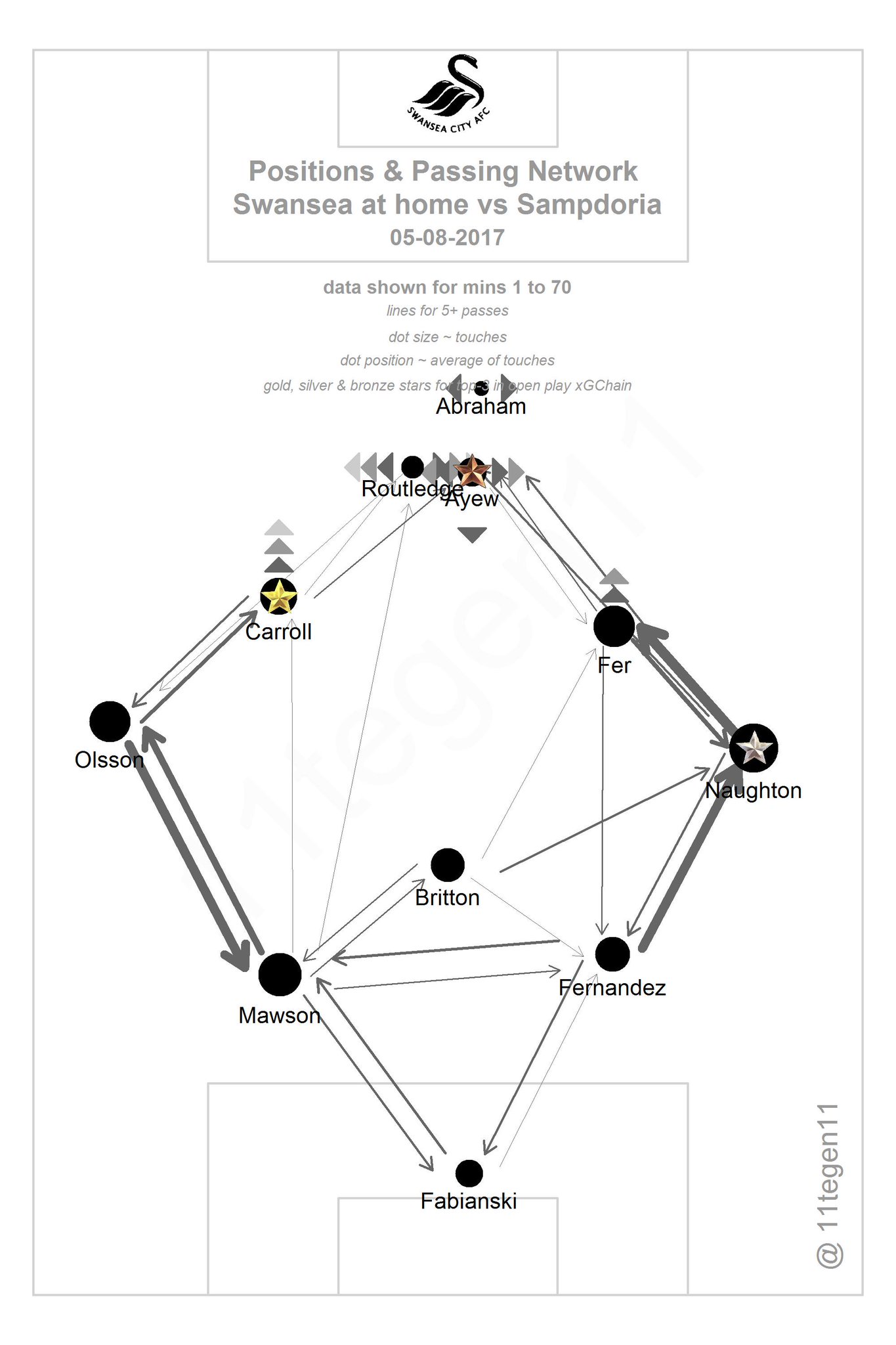 That was what was surprising the most – the lack of link-up (passing arrows) amongst Britton and his two midfield team-mates.

Rather than Leon Britton being the main defence-to-midfield pivot in the centre like he has been in the past, the main route forward was via the flanks and the centre back-to-full backs link. The two centre backs were playing wide to the full backs, who were then often feeding Carroll and Fer before seeing the ball then progress further from those two to the forwards.

Looking at the front three, Ayew was the player dropping deep to support Routledge, while Abraham was our frontman – mainly moving side to side to retrieve possession – as opposed to Fernando Llorente who would often drop deep in search of the ball.

It`s no surprise though to see that Tom Carroll has the "gold star" as our main contributor in terms of attack and goalscoring potential. Silver was Kyle Naughton before Jordan Ayew (bronze).

Shot location

Looking at the shot location pitch map, you can see below that we`re already trying to play to Tammy Abraham`s strengths and creating chances in the 6-yard area.

A number of shots were also executed from the right side of the penalty area, where Ayew was active.

The majority of Sampdoria`s efforts were from outside of the box, hence why their xG (expected goals) was so low compared to Swansea`s accurate 2.99 (the own goal being completely out of the blue).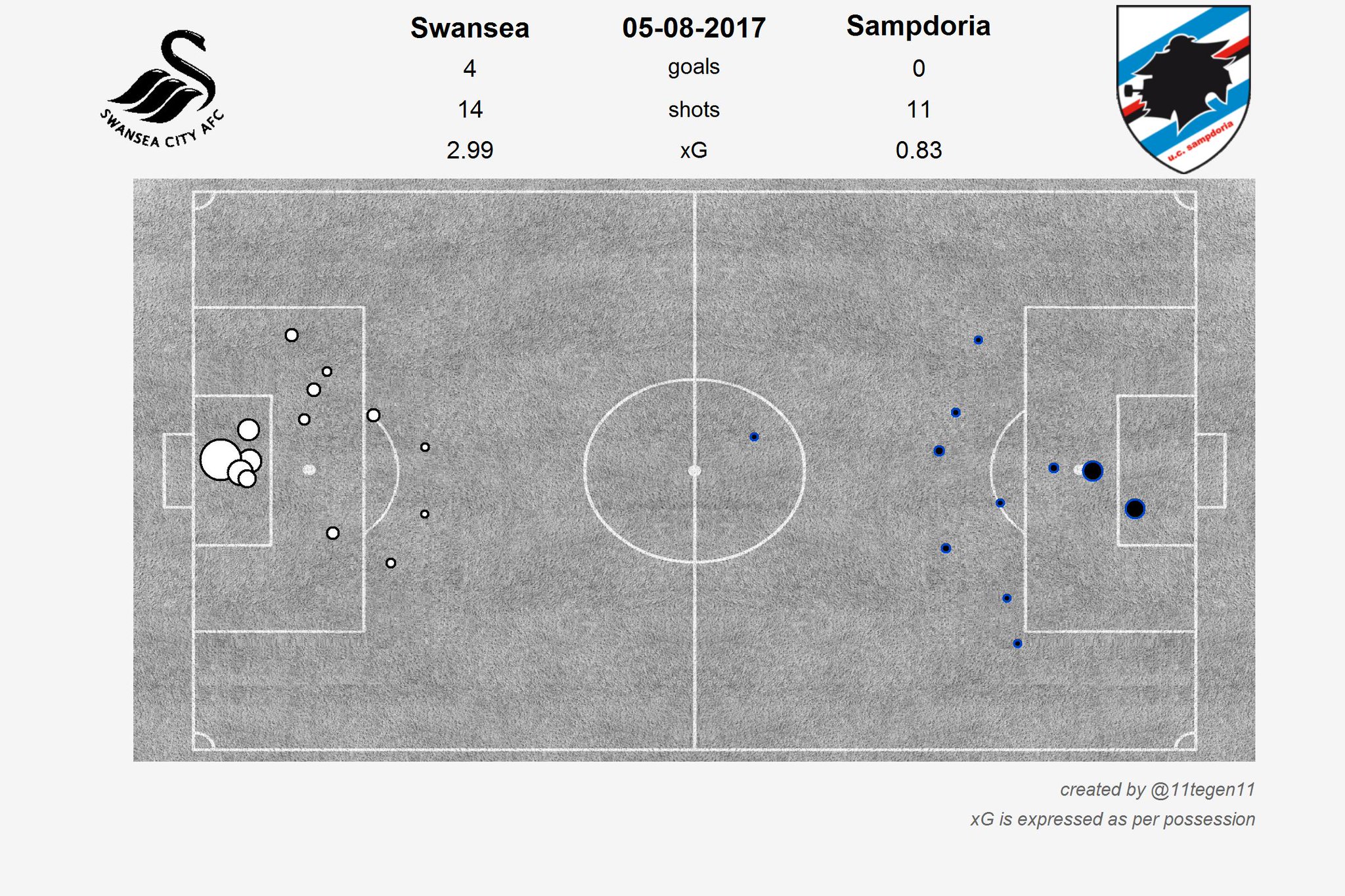 You can view the full stats and passmaps of the game via @11tegen11`s twitter below:


Here you go! pic.twitter.com/qnraMgIYLE

? 11tegen11 (@11tegen11) August 8, 2017