We take a look at what Paul Clement can do to fix the many problems we have on the pitch as it appears that his managerial job at Swansea City is safe – for now.

Clement`s start to the season is equal to that of Bob Bradley`s 11-game record – two wins, two draws and seven defeats. That got the American sacked. Compare that to Guidolin`s first 7 games last season, one win, one draw and five defeats – which also got him sacked. However, it`s been claimed by BBC Sport Wales that Clement has "credit in the bank". While a two-week international break is usually the best time for sacking managers, it looks like the former Derby coach will most certainly still be here for our next game at least – a tough trip to in-form Burnley.

Given that his future looks safe for now, we thought we`d look at some of the things that Clement could look to implement or fix to improve our hopeless Premier League form. We asked our twitter followers for their thoughts, and we`ll include them throughout the article.

Having made the list below, using some of the ideas on twitter, a number of items also featured on Sam Allardyce`s "blueprint for survival". Now I`m not suggesting for one second that he should be approached to replace Paul Clement, but he is one manager who knows how to help keep teams up.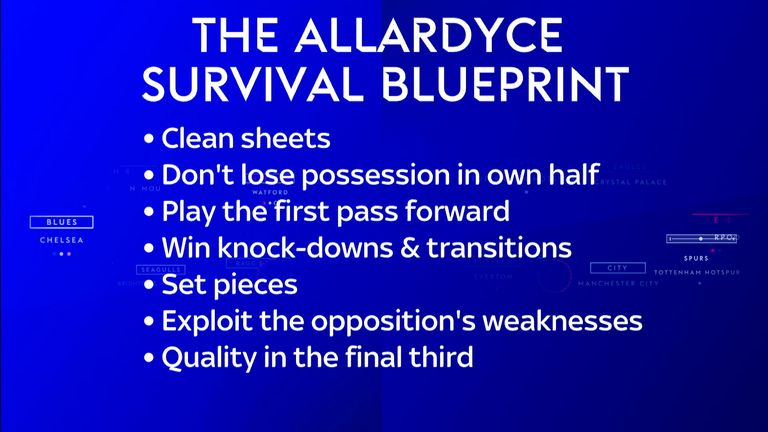 Settle on a team and formation


Pick a formation & stick to it. Take the game to the opposition and stop changing our game to counteract the opponent. Show some positivity.

? Paul Thomas (@NeathJack1) November 5, 2017



This is something that Clement did when he first came in back in January to keep us up last season. It`s also something that Guidolin focused on when he did the same the season before. The Italian even admitted that he wanted to focus on 12-13 players as many others had to make do with knowing that they were only ever going to be involved that year if there were injuries.

Not only settling on his best team, but his favoured formation too. A few weeks ago, captain Federico Fernandez spoke about the need to play a better passing game and that the players are "too scared" with the ball at their feet. That has been all too evident in recent performances. He also mentioned about systems, and the need to focus on one so the players can get used to it. However, Clement has focused on three formations already after just 11 games. Preferring a 3-5-2 for tough away games, before more recently using 4-3-3 at home.

It`s been suggested by many that Clement doesn`t know his strongest team, and I think they`re right. Sticking with the likes of Tom Carroll and Leroy Fer aren`t helping our cause, but while they continue to keep getting chances, Roque Mesa keeps watching on from the stands.

And like Neath_Jack said on twitter, lets stop being reactive to the opposition, stop changing our system to suit the opposition and identify our own favoured system and best 11.

Sort out the set piece problems

This one is obvious. Set pieces have been a problem all season but against Brighton on Saturday they were the worst they`ve ever been. So bad in fact, that Goals on Sunday showed a number of examples of how bad they were:


Some more basic errors and erratic crossing #twitterjacks #swans pic.twitter.com/NofoNzEPWn

? Stephen Hughes (@swanspassion) November 6, 2017



It even prompted this response on the sidelines from Paul Clement:


? Vital Swansea City (@VitalSwansea) November 5, 2017



Clement has so far, this season, proved to be lacking in ideas and variety. We are seeing the same passing patterns, the same "simply cross it" set pieces and he`s got to think of some variety for improvement and to keep the opposition guessing. It`s easy now to predict our passing patterns out from the back too. 9 times out of 10, a centre back will pass to a full back, a midfielder will come very wide and might receive the possession, and the move will usually end up with a wide players being forced to pass back to a defender.

Be more direct and positive

Another obvious one, but we`ve got to show more ambition at home. We`ve got to be more direct and look for the killer balls. This also ties in with the point of increasing the tempo. We`ve gone back to being a slow, passing team, players taking two or three touches on the ball, thinking for too long before passing backwards.

Sam Allardyce spoke about forward passes, and ensuring that the first pass is forward:

'I was brought up to always make your first pass forward if you can,' he said. 'Even against the best defensive team in the Premier League, it's a quick forward pass that creates the opportunity to score.

'Too many sideways or backward passes allow the opposition to get back into their own half and put up two banks of four.

With the atmosphere poor at the Liberty, we`ve got to try and get the fans upbeat from the start. The best way of doing that is getting on the front foot, apply a much higher line of pressure, and win some cheap corners early on – and then take a decent corner too. It does wonders for the crowd and it gives the player a boost early on. We were used to that under the likes of Rodgers, Laudrup and Martinez, but it`s not rocket science to implement. Leicester are experts at it.

We`ve done it only once this season, in the 2-0 home win against Huddersfield. We were busy from the start, won a couple of early corners and Abraham got a shot on target within 8 minutes. But since then, you`ve got the feeling that we simply adopted that style as Clement wasn`t overly worried about the opposition, but we need to have more belief against better teams at home.

Here`s an example of what we need to see more of this season:




Guidolin did a similar thing in many games in the season he kept us up:


Could you ever imagine a situation like this under Clement? pic.twitter.com/4vDa7m2B5h

? Vital Swansea City (@VitalSwansea) November 6, 2017
Just need to stop being so negative at home. Okay first 20 nine we weren`t too bad but then they scored and there was no fight back. A big thing too we need to SHOOT. We get to the final 3rd and we`re just clueless, decision making is awful. If put some under 23`s in

? Tommy Butler (@titchbutler101) November 5, 2017
Tempo. PC is playing budget La Liga football with a patchy squad in hardest / fastest league elite around

? Maxwell Hicks (@maxwellhicks) November 5, 2017



Paul Clement`s overall (including last season) shots per game average is also very poor:


Average shots per game in the Premier League ranked by Manager. pic.twitter.com/1cTB41KJeA

? Vital Swansea City (@VitalSwansea) November 5, 2017



Sort out midfield problems

Looking at more of the tactical issues that we keep seeing game in game out, one of the main problems is in midfield. In my view, this is the key area that needs fixing to help us win some games.

Firstly, the shape is awful, and we keep seeing the same things happening which makes our midfield pretty much non-existent at times.

What keeps happening is midfielders moving into wide positions. They do this to provide a passing option to the full back who is obviously receiving the ball from his centre back. But the opposition are aware of our predictable habits, and cover us with an extra man.

Against Brighton – in the screenshot below, Carroll has made a diagonal, forward run. So rather than being close to Ki, and right in the middle of that big area of shaded space, he`s moved to be double-marked in a wide position.




As the move develops below (or not!), the ball stays in the similar area of the pitch, as Fer comes across and attempts an almost impossible pass through a crowd of players to Carroll ahead of him. The pass is easily blocked off, and the midfield is in an awful position to try and stop the counter – this is when we see fouls and yellow cards getting picked up around half way.




The screenshot below speaks for itself. Fer is in a full back`s position, and the trio of midfielders are so far away from each other that they`d need to send postcards to communicate. Clucas is probably further up the pitch below, but he should be in Fer`s position, with Fer occupying that large area of space – in MIDFIELD. Why can`t Fer move into that shaded area, and Mawson pass to him here!? It`s so frustrating to watch every game, but I guarantee you it happens every game.




The second point of the midfield, is in additional to getting players much closer together to help a passing style, get a player on the pitch who`s told to work off Tammy Abraham. The striker is having to feed off scraps, he has no support whatsoever and you couldn`t blame him for counting down the days until he`s playing for someone else.


Playing someone at 10 for me. 3 deep lying midfielders is NOT working. Oppo deep mids have looked world beaters bcause no is within 15 yards

? Griff (@Griffting101) November 5, 2017



Below shows the typical problem for Tammy Abraham, he`s isolated and has nobody in support whatsoever. Again, annoyingly we`re seeing these type of screenshots from every single game. The match analysis articles are featuring the same type of screenshots and identical problems, which makes you question whether Paul Clement and his team really are re-watching the performances and picking out our problems.

There`s nobody making a run off Abraham here, he needs a quick option here before being dispossessed as there`s four Brighton players near him.




Get somebody within 10 yards of Abraham

Abraham desperately needs a player to support him, someone playing within 10-15 yards to feed off. Clement has commented on the poor hold-up play from the forwards but they're always isolated anyway, so only Bony has the physical strength to hold the ball up for the time it takes for a team-mate to be close enough to pass to.

We also need to play to his strengths better as well. We're still playing down the sides all too often, playing the ball to full backs, who then have a midfielder coming very wide (as we've previously seen) in support. Usually,
their only option is to then send in hopeful crosses into the box that neither Ayew or Abraham can ever get on the end of. The crosses usually lack quality, but both players, and Bony too, are better suited to balls being played through the middle or in behind defenders.

Is there anything we've missed out? What are your thoughts? Can Paul Clement do some effective training ground work in the next two weeks to inspire a response at Burnley? Or Should he be sacked? Let us know your thoughts in the comments below?