A quick look at the Pass Maps from Swansea City`s win at home to Burnley on Saturday ahead of our upcoming Match Analysis.

Pass maps courtesy of @11tegen11 on twitter

As has been the welcomed trend under new boss Paul Clement, he has solved the issue of a severe imbalance in the side, and has found a way to field Gylfi Sigurdsson in the wide left role, but allowing him to drift inside and keep the width on both flanks, rather than having a side forced to focus their attacking play on the right.

New signings Martin Olsson and Tom Carroll have been crucial to making this work. Against the rather narrow 4-4-2 of Burnley, as Dyche tried (and failed) to set up his team to contain the Swans in the middle of the pitch, Clement adopted more width, as Narsingh hugged the right touchline, while Carroll moved out wide on the attack to support the forever-galloping Olsson, as Sigurdsson occupied a position in the middle to avoid Llorente becoming isolated as a result of the added width.

The pass map below shows Sigurdsson`s more central position, compared to Narsingh`s, but also his sideways movement compared to the Dutchman`s. Carroll then also adopts a wider position – closer to Olsson, compared to Fer – who did occasionally move out wide to form a right-sided trio of himself, Naughton and Narsingh. This was limited though to ensure that they weren`t leaving too many gaps through the middle for Burnley to exploit on the counter. The Swans worked tremendously hard to apply pressure high up the pitch to avoid this from happening.

Jack Cork is again the central pivot in deep midfield, operating sometimes as a third centre half with Mawson and Fernandez splitting wide.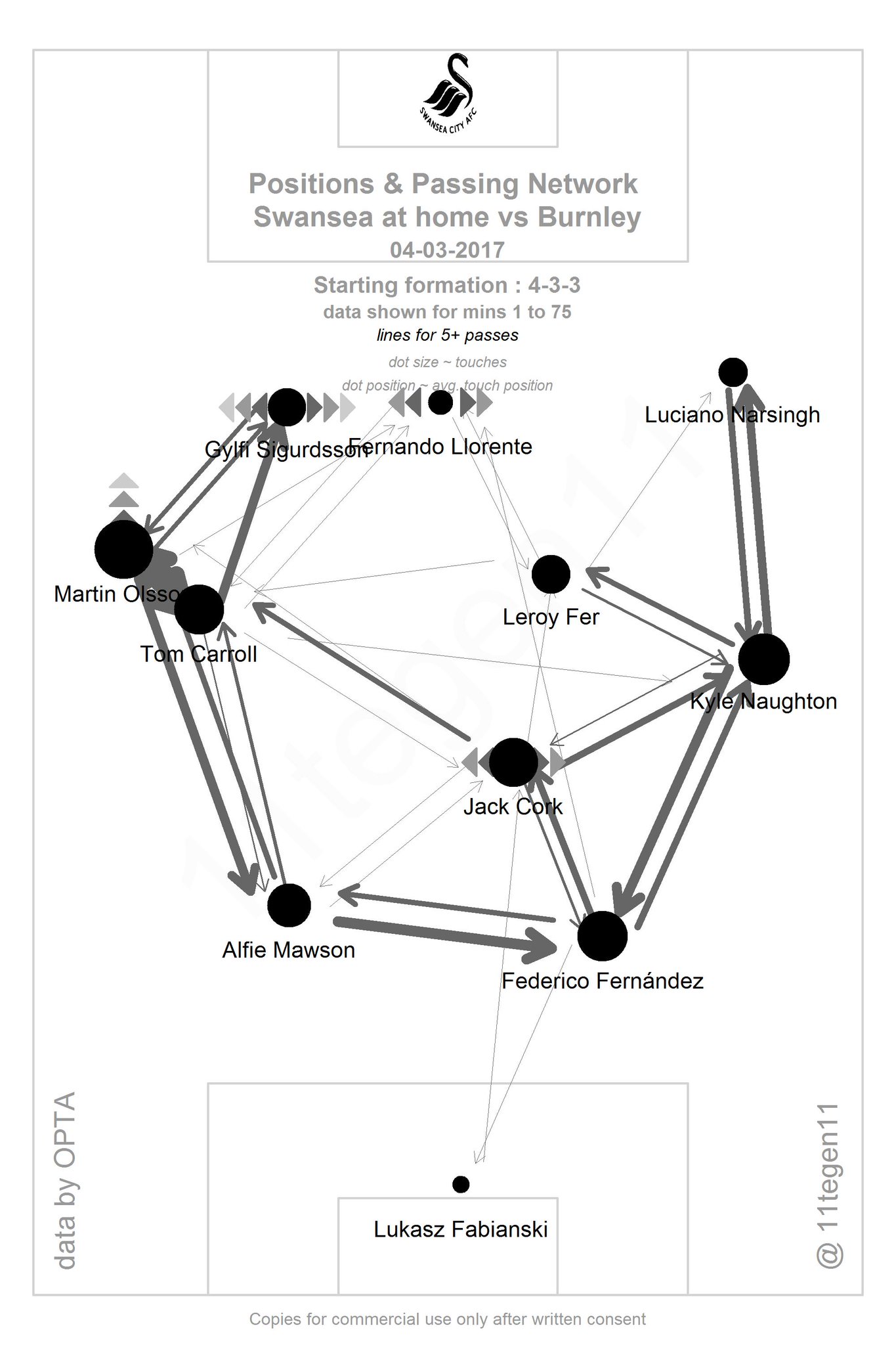 Burnley`s pass map however shows a completely different approach, a defensive one mainly, with pretty much a 6-man backline, with Barton and Boyd dropping very deep to add defensive support.

Boyd was pretty useless at providing defensive support to limit the threat down Swansea`s left, while Barton was barely noticed by any observer watching on.

Brady`s high position was a problem for Burnley throughout, as left back Ward severely lacked support to cope with Naughton and Narsingh down the right, add Fer into the mix and it was a big concern for the away side.

With clearly no width available whatsoever for Dyche`s side, as per their defensive tactics, Vokes and Gray were the main outlets, with the simple tactic of hitting it long to the Welshman to flick on for Gray, it worked for their second goal. Long balls over the top and into the channels for Gray to chase didn`t though, as Mawson was often easily able to deal with them or see them run out of play.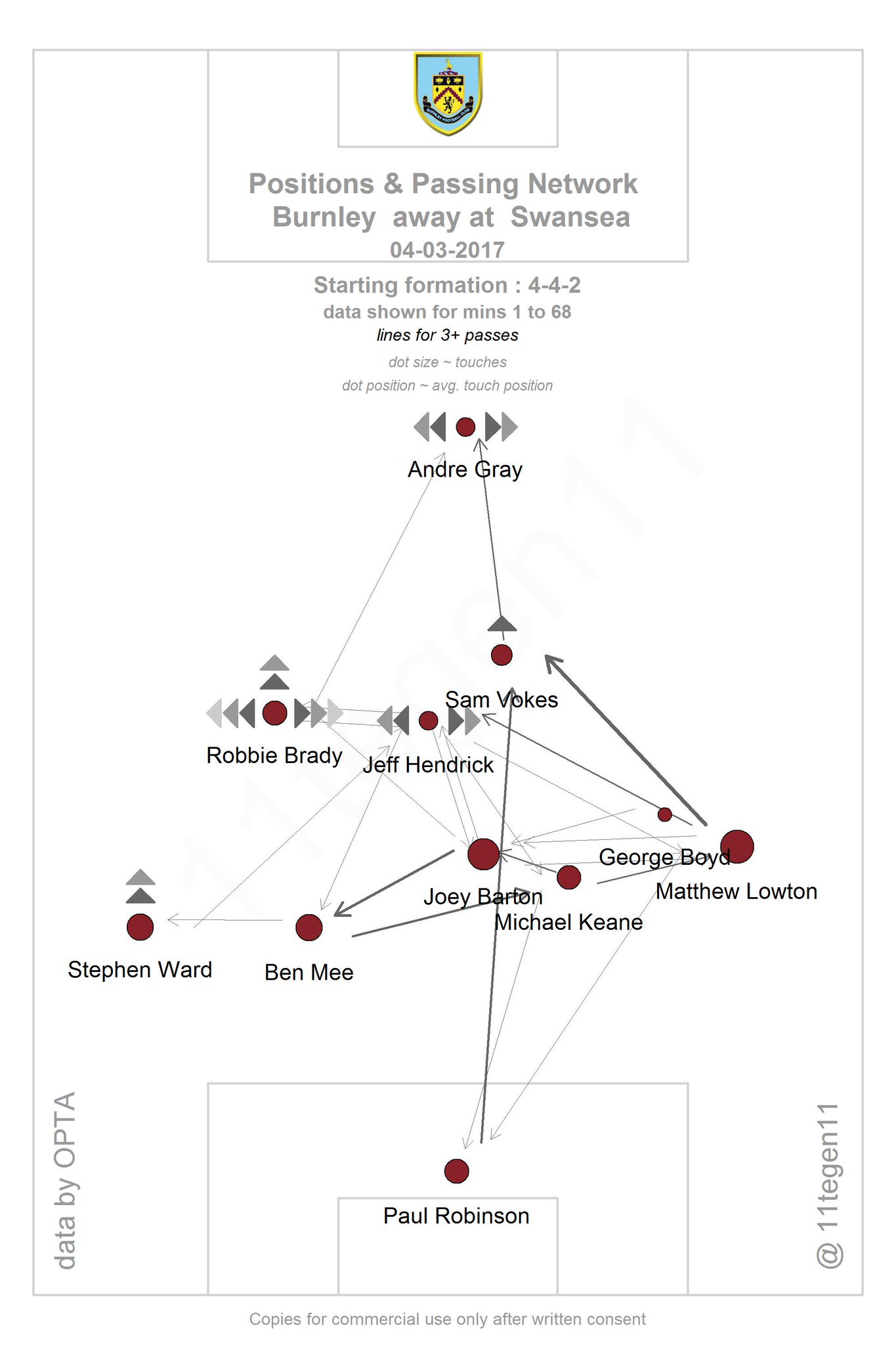 It was Swansea`s dynamic movement and player rotations – some of which mentioned above which caused difficulty for Burnley throughout the 90 minutes, and their midfield struggled to work out who to pick up, and it was a test of their positional discipline to remain in their contained shape.

Having hit the woodwork at least four times, with other chances going within a foot of the target, it was a clear dominant performance from the Swans, whatever ridiculous slant Dyche tried to put on it.


Passmaps & xGplot for Swansea against Burnley. #passmap #xGplot #autotweet pic.twitter.com/lbsOGWgSq4

? 11tegen11 (@11tegen11) March 4, 2017